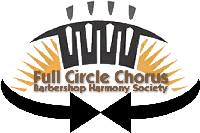 Barbershop Harmony is a style of unaccompanied (A Cappella) singing in which three voices harmonize to a melody – all in close harmony. The Lead, also known as second tenor, usually sings the melody. The Tenor harmonizes above the melody. The Bass sings the lowest harmonizing notes and the Baritone provides in-between notes, either above or below the lead, completing the chords that give Barbershop its distinctive consonant sound.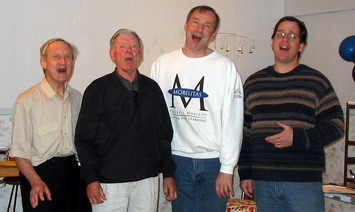 The style is further identified by the use of consonant chords that are harmonious (pleasing). Tuning is as perfect as is vocally possible. The style is distinguished by uniformity of word sounds and a special emphasis on close harmony.
Songs that lend themselves particularly well to Barbershop harmonization are those from the heyday of Tin Pan Alley, from about 1890 to 1920. Songs of that era were written with home sheet music sales in mind, and consequently were written to be singable by people with average vocal ranges and skills.Lyrics celebrating simple, heartfelt emotions are characteristic of songs in the Barbershop style, which is why we hear so many songs about young love, Mother, and nostalgia for days gone by.
Of course, Barbershoppers are always adding new songs to the repertoire, both their own compositions in the Barbershop genre, and arrangements of current pop hits that are well suited to the style. For a more detailed description of the style, enjoy this video titled "What Are We Trying to Preserve by Dave Stevens".
Home | About Barbershop | Our Organization | Community | Quartets | Contests | Join Us | Learning Lounge